We allow you to upgrade or downgrade a service easily through our panel. Please note that you cannot upgrade or downgrade a Dedicated Server. When logged in to your client area select 'Services' then 'My Services'

From here, select the service you wish to upgrade or downgrade.

Then, from here, select 'Upgrade/Downgrade' on the left-hand side in the 'Actions' tab.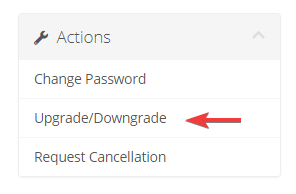 If you see a message which states "You cannot currently upgrade or downgrade this product because an invoice has already been generated for the next renewal" then you must first make the next payment for your server. Once you've done that you will be shown a page with our other service plans. 

If you're upgrading, an invoice will be added to your account where you pay the difference.